Zak Kuhn talks with Ralph Jaccodine, Professor at Berklee College Of Music
Tuesday, June 30, 2020


Zak Kuhn is a true New Yorker and former student of mine who went from Berklee College of Music to Nashville, of all places. It was there that Zak has carved out an amazing career including starting the Nashville Briefing (link here), a must read for the music industry. The Zak Kuhn Show is a his podcast series with some amazing players in the music industry... and for some reason, he asked me to share my thoughts. We had fun! Enjoy.
Mentoring for the Modern Musician Podcast with Ralph Jaccodine
Monday, April 8, 2019
#3 Management w/ Ralph Jaccodine

The Mentoring for the Modern Musician podcast, often featuring interviews with industry insiders who would never take your call, is designed to help cut the learning curve for musicians in and ever-changing music industry. Through in-depth topical discussions, the Scharff Brothers look to help musicians cultivate the skills necessary to forge a career as a creative artist. Pioneers in Virtual Artist Development, the Brothers steer each interview and conversation in an entertaining, informative, upbeat and completely original direction. In an ever-changing music industry, up to date and often cutting-edge information can make all the difference in a successful career. As the boys will tell you "You got this…We got your back."

The Scharff Brothers guest on Mentoring for the Modern Musician in this episode is Ralph Jaccodine, Founder of Ralph Jaccodine Management and co-founder of Black Wolf Records. Assistant Professor at Berklee College of Music, Music Business/Management Department. Beginning with a young artist named Ellis Paul, then quickly followed by powerhouse performer Martin Sexton Ralph has, over his 25-year career, managed numerous brilliant artists. The list includes: Livingston Taylor, Shun Ng, The Push Stars, Flynn, Antje Duvekot, The Adam Ezra Group, and many more! We were thrilled to be able to spend some time picking his uniquely insightful brain!
MBJ Cut Time Podcast with Ralph Jaccodine
Saturday, March 30, 2019
Berklee College of Music's 'Music Business Journal' Podcast.

Exclusive interview with industry professional and Berklee professor Ralph Jaccodine discussing current industry management techniques and trends.
Newport Folk Festival stays fresh with younger and more diverse acts
Tuesday, July 19, 2022
By Molly McCaul
July 19, 2022
This summer, the Newport Folk Festival is in full swing to bring one of the country's premiere music festivals back to New England. From Friday, July 22, through Sunday, July 24, Newport Folk will bring
more than 50 artists
to Rhode Island's Fort Adams State Park for a weekend of live music.
As David Pruett, an ethnomusicologist who teaches at UMass Boston, explains, the festival started decades ago when founder George Wein experimented with adding an afternoon of folk musicians to his already-existing Newport Jazz Festival. Following the immense success of that afternoon, in 1959 Wein expanded it to a whole weekend of folk music.
An annual tradition ever since, the Newport Folk Festival is most well-known as the setting for the infamous 1965 set wherein Bob Dylan
"went electric"
for the first time — to the shock of folk purists. According to Ralph Jaccodine, a professor of music business and management at Berklee College of Music, that wasn't the only surprise Newport has had in store for audiences over the years.
That 1965 set was "when Dylan freaked everybody out," said Jaccodine, a music manager and promoter. "And then 40 years later, Jay [Sweet, Executive Producer and Director of Newport Festivals] books The Pixies, and they go acoustic."
More than 60 years later, the Newport Festivals Foundation is still running both its annual Folk and Jazz Festivals. After pandemic-related cancellations, it's the first time since 2019 that the Newport Folk Festival will have its typical three-day, full-capacity format. Jaccodine attributes the festival's longevity to a "brand" built around the quality of acts they book — it has a tradition of selling out well before its full lineup is announced. "You know if you go to Newport Folk Festival and you don't know who's playing, it's going to be great," Jaccodine said.
A crucial part of the festival is its "spirit of collaboration," as Amelia Meath, of The A's, described it. The A's, a collaborative project by Meath and Alexandra Sauser-Monnig, will make its live performance debut at Newport on Friday. Both are experienced musicians who have previously performed at the festival with their folk trio Mountain Man.
Getting to "[hop] on stage with a whole bunch of incredible musicians" and perform impromptu "without ever having a rehearsal" is, to Sauser-Monnig, part of what makes the folk tradition so unique.
"It's going to be kind of a wonderful collaborative review of all the things that had been released ... as well as seeing old friends and making new friends," Meath said. "That's one of the true gifts of Newport is that, every time I go, I ended up singing so much more than I thought I was going to. And it's always a blast."
The modern construction of folk music, as Pruett put it, goes hand in hand with the commercialization of music at the turn of the century. Once music became profitable, the style and image of what he called old-time music "was changed by folks who were writing those checks," Pruett explained. "Old time had this stereotype of being music from the South, music among white people, music among those mountain-type folks." The music was marketed under the pejorative term "hillbilly music." Artists started curating their stage presence and musical styles to match the commercial mold, leading to "the whiteness of what these genres stood for," says Pruett, while blues artists who didn't fit were categorized as "race records."
Even today, the Billboard Americana/Folk Charts are topped almost exclusively by white artists, a supermajority of whom are men. It takes scrolling to the 20th album on the year-end chart for 2021 until Black Pumas, 2020 Best New Artist Grammy nominees and recent
Boston Calling performers
, break the streak of an otherwise entirely white list with their self-titled 2019 full-length release.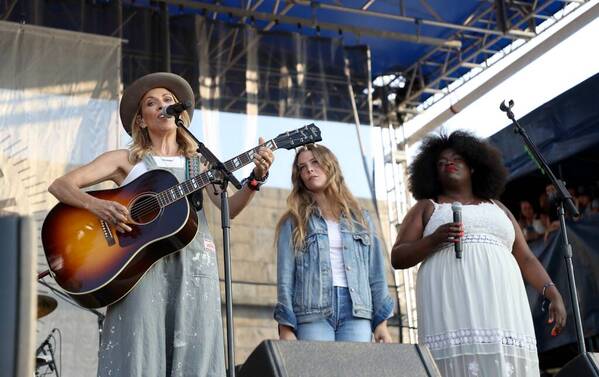 Sheryl Crow, Maggie Rogers and Yola perform as part of the Collaboration during day two of the 2019 Newport Folk Festival at Fort Adams State Park on July 27, 2019 in Newport, R.I.
Mike Lawrie/Getty Images
The most prominent modern example of the impact of racialization in folk music is that of British band Mumford & Sons. The band has, on
multiple occasions
, faced backlash for their affiliation with far-right speakers like Jordan Peterson and Andy Ngo, most recently leading banjoist Winston Marshall to take time away from the band
after he praised Ngo's book
. Frontman Marcus Mumford is slated to perform a charity benefit set in Newport as part of the festival's
after-show series
on Saturday, July 23.
The element of Mumford's music that Pruett was quick to highlight, though, is that the band represents "a full circle of world music history." Combining Irish and Celtic influences, Appalachian folk tradition and the banjo — "which was an African instrument from the west coast of Africa, from Mali," Pruett said — the band, without audiences even realizing, shows a result of centuries of musical migration.
Even beyond Mumford, this year's Newport Folk Festival lineup poses an exciting opportunity for audiences. Jaccodine pointed to this year's "bold" lineup that features non-traditional "folk" groups like The Roots, Dinosaur Jr. and The National.
"For folk music to live we need younger people, we need [a] diverse audience, we need to demonstrate that this quote-unquote 'folk' music can be done [by those artists] because it's storytelling," Jaccodine said.
Despite having such varied musical backgrounds, both exploring other genres through different collaborations many of the other artists featured on the lineup, Meath described The A's album Fruit as "a celebration of folk music that we've loved for years and years, particularly yodeling music." But Meath added that a category like "folk," like the genre label "pop," doesn't have strict boundaries: "Anything that originated from someone seems to be folk music at this point."
Other notable names on the lineup include Arooj Aftab, a Brooklyn-based Pakistani vocalist who was nominated for Best New Artist at the Grammys in 2022 and won for Best Global Music Performance, a new category this year;
Joy Oladokun
, whose most recent release, In Defense of My Own Happiness, explores her identity as a queer Black woman in the United States; and alternative pop band
Japanese Breakfast
, whose frontwoman Michelle Zauner garnered buzz this year for her memoir "Crying in H Mart."
What will concerts be like post-pandemic? Planned Palm Desert arena offers a glimpse
Sunday, September 27, 2020

Brian Blueskye
, Palm Springs Desert Sun
Imagine this: It's a Friday night in 2022. Your favorite band is playing at a new arena in Southern California, and you're ready to enjoy live entertainment again.
Even if the COVID-19 pandemic has passed, you can expect the event to be different.
When you visit the concession stand for a hot dog, products will be grab-and-go, and the purchase won't require human interaction.
Sanitization and cleaning will be more thorough. The air circulation system will be equipped with new technology for ventilation.
These are just a few examples of the new design elements that Los Angeles-based Oak View Group is looking to implement in its venues — not just in Southern California but also in Seattle, Austin and New York. The coronavirus pandemic is leading to changes at many sports stadiums and live event arenas as they try to safely serve fans.
OVG's planned 10,000-seat arena, which will be built just outside the city of Palm Desert, offers a window into what the post-pandemic concert experience could be like.
"We need to understand there will always be the spread out there, even if it's on a much smaller scale, and there may be other viruses that we have to deal with as we become a global society," OVG CEO Tim Leiweke said. "We're ready for it."
What will concerts look like post-pandemic?
Live Nation, a Beverly Hills events promoter, is partnering to provide entertainment for OVG's Southern California arena. When asked about the type of acts that will perform, a spokesperson pointed to Cher, KISS, Ariana Grande, Jennifer Lopez, and Queen + Adam Lambert, who partnered with the company for nationwide arena tours in 2019.
Those tours drew an estimated 10,000 to 14,000 people. Experts are already speculating about the types of changes fans might see in concert arenas of that size.
Leiweke told Music Row in June that an Oak View Group task force is reviewing more than 180 products, solutions and technologies for seating, concourses, restrooms, concession stands and locker rooms not only for its own live entertainment facilities but others across the industry as well. Its Southern California arena also will be home to the Seattle Kraken's American Hockey League team.
'We're figuring out how we ultimately make our buildings safer," Lieweke told The Desert Sun. "We're spending millions of dollars more on all of our projects."
UCLA public health professor Dr. Richard Jackson described the SARS-CoV-2 strain as "fragile" and easy to destroy with alcohol.
"Your biggest risk is the guy next to you sneezing and breathing in your face, (and)going to the bar and being eight inches from somebody else's face whose got a runny nose, coughing and not wearing a mask," Jackson said.
For that reason, arenas could require face masks or temperatures checks upon entry, not only for attendees but for staff. They might keep a certain number of seats open between fans. Surfaces that you are likely to touch might be made of materials such as copper, which erodes the COVID-19 virus. Air might be recycled through high-quality filters and ultraviolet light.
And technology could be used to ensure social distancing. When it's time for beer, fans might pour it themselves through an automated system like the one developed by Illinois-based company Pour My Beer.
"The day where you reach into your wallet or pocket and put a bunch of dollar bills on a counter where a guy picks them up and puts them in with everyone else's money, I think those days are ending and we'll be paying with a card," Jackson said.
Jackson believes the virus will be eradicated by 2022, but added if COVID-19 is still widespread, it won't be safe to open arenas at all.
When will concerts happen again?
It's uncertain when concerts will be able to happen across the U.S.
California Gov. Gavin Newsom said in April that live music is unlikely to return until there's a COVID-19 vaccine. And Robert Redfield, director of the U.S. Centers for Disease Control and Prevention, said this month that he doesn't expect a vaccine until the middle of 2021.
NFL teams such as the Cleveland Browns, Kansas City Chiefs, Miami Dolphins and the Dallas Cowboys have allowed some fans to attend games, but many teams are not allowing fans into the stadium until the third or fourth weeks of league play, or for the entire season.
Fans at Hard Rock Stadium in Miami are required to check-in at assigned gate entries, adhere to social distancing and park where they are assigned by an attendant. Staff are required to wear masks and have their temperature taken.
One of 16,000 fans who attended Kansas City's opening gameagainst the Houston Texans on Sept. 10 tested positive for COVID-19. Fans who sat near the attendee were alerted through the stadium's contact tracing system and are currently in quarantine.
Dr. Paula Cannon, professor of molecular microbiology & immunology at the University of Southern California, said these decisions must be made at a local level and reflect the risk of the population in those areas.
"I think the reality is, you can put a lower number of people in a stadium but if you believe they are always going to be socially distant, that's somewhat naïve," Cannon said. "But if you're in a state or a locale with a very low local transmission and can ensure that your audience wear masks, that's a huge reduction in risk."
Live music industry faces uncertain future
But live entertainment may already be permanently altered for years to come.
Ralph Jaccodine, an assistant professor of music and business management at Berklee College of Music in Boston, described the touring industry's infrastructure like the "Wizard of Oz": Arenas can operate successfully thanks to smaller venues that act as cogs churning out buzz and new artists.
Bigger stadiums book music acts based on projected ticket sales, when a band was last in the market, a new album or an increased amount of publicity and radio airplay.
"If the arena is going to guarantee all this money, they want to make sure they don't take a hit, so they're smart about it," Jaccodine said. "In order to fill up the arenas, they have their eyes on the clubs, the theaters, the colleges and what's going on there. Because they need to see their arenas with new bands."
But many small independently-owned venues across the country are either currently closed or at risk of closing. The Troubadour in West Hollywood, for example — known for helping to launch the careers of Elton John and the Eagles — has been closed since March. Christine Karayan, the club's general manager, told the Los Angeles Times that its survival amid the pandemic is a "big if."
Jaccodine recalled attending a mentoring session with Live Nation's New England President Don Law, who said these smaller venues are integral to the entire touring industry infrastructure.
"(Law) was talking about how important it is to have healthy clubs," Jaccodine said. "You're not going to play at the Boston Garden if you haven't had five to 10 years of working the little clubs and the little theaters."
Still, Jaccodine is hopeful that the industry can recover, similar to professional sports.
"When a band like Nine Inch Nails comes to Boston, that's 10,000 hotel rooms, restaurants, and rental cars and it just it brings so much financial help to the city," Jaccodine said. "We're living in a strange world, but managers like me, booking agents and even musicians, we're a pretty positive and optimistic group."
Detoxicity Podcast Episode 24
Wednesday, September 2, 2020
Ralph Jaccodine has 4 decades of working in the music business working with artists as diverse as Bruce Springsteen, Rush, Kiss to Livingston Taylor, Martin Sexton and Ellis Paul. He started promoting concerts in Allentown, Pa. and at the University of Notre Dame. Then after a career in commercial real estate, he started an indie record label and artist management company. He is the founder of the Boston Managers Group, a 150+ professional organization. Ralph teaches full time on the faculty of Berklee College of Music in the Music Business/Management department.


This episode finds me and Ralph exploring teaching and mentorship, the things Ralph learned from the church, Mother Teresa and Bruce Springsteen, and the things that he tries to pass along to his students and his children. We also talk about the stresses involved with managing artists' careers and how to keep the faith in uncertain times.
Boston Managers Group Meeting: The National Independent Talent Organization
Thursday, August 20, 2020
Hosted by
Ralph Jaccodine
of the Boston Manager's Group, Ted Kurland (The Kurland Agency), Wayne Forte (Entourage Talent Associates), and Frank Riley (High Road Touring) discuss the state of the touring industry and the formation of
The National Independent Talent Organization
(
NITO
), for which they are founding members.
NITO
is the ONLY organization actively lobbying congress on behalf of all independent booking AGENTS and independent MANAGERS...
that means US
!
Panel: Ralph Jaccodine, Jim Lucchese (CEO, SoFar Sounds), & George Howard (former president, Rykodisc)
Wednesday, May 6, 2020
Hosted by
Ralph Jaccodine
of the Boston Manager's Group,
George Howard
and
Sofar Sounds
' CEO
Jim Lucchese
talk about how the music industry is changing as a result of the pandemic, what Sofar Sounds is doing to address the changing market, and how artists can sustain their careers in the current climate.
Culture Shocks with Barry Lynn Podcast with Ralph Jaccodine
Thursday, March 14, 2019
Cultureshocks is a podcast and blog that takes a sometimes serious, sometimes comedic, look at the politics and culture of today. Barry Lynn's goal is to do just the opposite of David Letterman's new podcast "My Next Guest Needs No Introduction". He introduces folks to people they well might not know because our media has a tendency to recycle "famous people" and ignore innovative voices out there.
Barry Lynn was born in Harrisburg, Pennsylvania. His family moved to nearby Bethlehem when he was a child. He attended Bethlehem's Liberty High School, graduating in 1966.
Lynn received his B.A. in 1970 from Dickinson College in Carlisle, Pennsylvania, and his theology degree from Boston University School of Theology in 1973. After attending law school at night, he received his J.D. degree from Georgetown University Law Center.
After law school, Lynn continued to work with the United Church of Christ to gain amnesty for young men who refused to fight in the Vietnam War. Later, Lynn held various positions related to religious liberties.
From 1974 to 1980, Lynn held positions within the national offices of the United Church of Christ, including two years for the Church's Office of Church in Society in Washington, D.C., as legislative counsel
In the mid-to-late 1980s he was legislative counsel for Washington's ACLU office, where he frequently worked on church–state issues.
From 1992 until his retirement in 2017, the Rev. Barry W. Lynn served as executive director of Americans United for Separation of Church and State, a Washington, D.C.-based organization dedicated to the preservation of the Constitution's religious liberty provisions. In addition to his work as a long-time activist and lawyer in the civil liberties field.
Lynn is an ordained minister in the United Church of Christ, offering him a unique perspective on church-state issues. An accomplished speaker and lecturer, Lynn has appeared frequently on television and radio broadcasts to offer analysis of First Amendment issues.
In 2006, Lynn authored Piety & Politics: The Right-Wing Assault On Religious Freedom (Harmony Books). In 2008 he coauthored (with C. Welton Gaddy) First Freedom First: A Citizen's Guide to Protecting Religious Liberty and the Separation of Church and State (Beacon Press).


His latest book is God & Government: Twenty-Five Years of Fighting for Equality, Secularism, and Freedom Of Conscience (Prometheus Books), published in 2015.
Lynn has appeared frequently on radio broadcasts and television to debate and discuss First Amendment issues, including The MacNeil-Lehrer News Hour, NBC's Today Show, Nightline, Fox Morning News (Washington, D.C.), CNN's Crossfire, The Phil Donahue Show, Meet the Press, CBS Morning News, ABC's Good Morning America, NBC Nightly News, ABC World News Tonight, CBS Evening News, and Larry King Live. He is also a weekly commentator on church-state issues for UPI Radio, and served for two years as regular co-host of "Pat Buchanan and Company" on the Mutual Broadcasting System.
Lynn hosted the radio program Culture Shocks, from 2005 until 2013, which could be heard from Washington, D.C., to Southern California on AM and FM radio stations. The show was syndicated nationally by "GCN Live", The Genesis Communications Network.
In October of 2018, Barry Lynn returned to the airwaves with a weekly podcast of Culture Shocks. The show airs at 3 p.m. Pacific Time, every Friday on Radio Station KCAA AM-FM, Loma Linda, California.


TO LISTEN, CLICK THE LINK BELOW, SELECT THE PLATFORM OF YOUR CHOICE, AND FIND EPISODE 3.14.19
Above The Basement Podcast with Liv Taylor
Thursday, March 7, 2019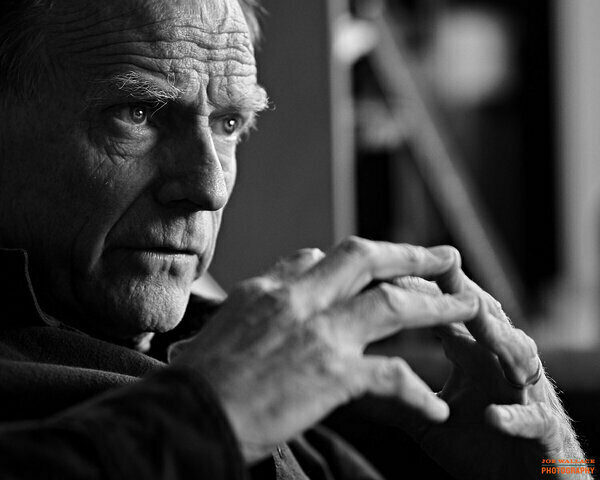 Boston's own Livingston Taylor is a musician, teacher and interested man.
Yes – we said interestED, not interesting. Not that Livingston isn't interesting, because he certainly is. This will all make sense in our conversation.
Liv is a full professor at Berklee College of Music where he teaches Stage Performance.
He is currently celebrating a 50+ year career with a brand new album called "The Best of LIVe – 50 Years of Livingston Taylor Live". This album has 11 tracks from his upcoming box set of the same name featuring unreleased live performances spanning his career from 1969 through 2016.
There is also a fantastic documentary called "Livingston Taylor: Life Is Good" that won The Van Gogh Award for the Feature Documentary category at the Amsterdam International Film Festival and you can check that out on Amazon.
Livingston has played with Joni Mitchell, Linda Ronstadt, Fleetwood Mac, Jimmy Buffett, and Jethro Tull to name just a few and he continues to play and tour internationally.
Liv flew in from Martha's Vineyard (and I mean he actually flew himself in as he is an instrument-rated pilot) to have a truly great conversation in his Watertown offices with us.
We talked about teaching, performance, learning and even about Steel manufacturing – he's a man who has an insatiable thirst for being interested and he will tell you without asking that he loves you.
And he means it.
Mentoring for the Modern Musician Podcast with Liv Taylor
Monday, October 1, 2018
#34 Living legend Livingston Taylor LIVE @ Berklee College of Music
The Mentoring for the Modern Musician podcast, often featuring interviews with industry insiders who would never take your call, is designed to help cut the learning curve for musicians in and ever-changing music industry. Through in-depth topical discussions, the Scharff Brothers look to help musicians cultivate the skills necessary to forge a career as a creative artist. Pioneers in Virtual Artist Development, the Brothers steer each interview and conversation in an entertaining, informative, upbeat and completely original direction. In an ever-changing music industry, up to date and often cutting-edge information can make all the difference in a successful career. As the boys will tell you "You got this…We got your back."
In this episode of Mentoring for the Modern Musician the Scharff Brothers were privileged to sit down with living legend Livingston Taylor In front of a live audience of students and faculty from the Berklee College of Music!!!Livingston Taylor's career as a professional musician has spanned 50 years, encompassing performance, songwriting, and teaching. Described as "equal parts Mark Twain, college professor, and musical icon, Livingston maintains a performance schedule of more than a hundred shows a year, delighting audiences with his charm and vast repertoire of his 15 albums and popular classics. Livingston has written top-40 hits recorded by his brother James Taylor and has appeared with Joni Mitchell, Linda Ronstadt, Fleetwood Mac, and Jimmy Buffet. He is equally at home with a range of musical genres - folk, pop, gospel, jazz - and from upbeat storytelling and touching ballads to full orchestra performances. In addition to his performance schedule, Livingston is a full professor at Berklee College of Music, passing on the extensive knowledge gained from his long career on the road to the next generation of musicians.
Artists as Activists
Saturday, September 1, 2018
Cohosted by the Music Business/Management Department at Berklee College of Music and the Dance Division at Boston Conservatory at Berklee, this residency was designed to highlight artistic collaboration between musicians and dancers on themes of activism and using art as a platform for empowerment, political expression, social justice, and fighting oppression. During the residency, artist will offered master classes and clinics, working together to create a new work in real time, then demonstrated it in performance.
Artists as Activists featured Kemp Harris, singer-songwriter, actor, and educator; Christal Brown (Urban Bush Women and program chair of Dance at Middlebury College), choreographer, educator, performer, and writer; Vincent Thomas (Urban Bush Women BOLD facilitator), dancer, choreographer, and teacher; and Chad Stokes, cofounder of Calling All Crows, a nonprofit organization. The residency also featured Barry Lynn, American journalist and writer; and Jim Lucchese, former CEO of Echo Nest/Spotify.

It was made possible because of generous support from the AVK Foundation.